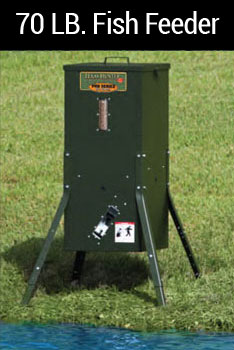 Texas Hunter Fish Feeders 70 lb LM135
In Store Only
Additional Info
Capacity: 70 lbs. Fish Feed or 125 lbs Corn.
Large capacity
Your Choice: Adjustable or Straight legs.
Premium Digital Timer feeds up to nine times per day.
– Run Time 1 to 60 seconds
– Includes a five-year limited warranty
Dispenses feed in 20-foot by 45-foot wedge pattern.
Includes a 12-volt rechargeable battery.
Compatible with optional 2-watt solar charger Model SP2W.