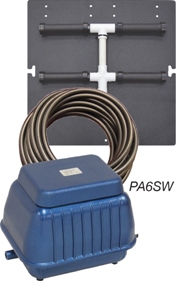 PA6SW – Single diffuser system
In Store Only
Additional Info
For ponds 7′ deep or less linear powered aeration systems are a great choice!
Extremely energy efficient
Very quiet operation
Long lasting, oil free design
Weather resistant enclosures – can be used outdoors. For maximum longevity use additional protection from elements.
Two year warranty on compressors, five years on tubing / diffusers
Choose from either single or double diffuser system. Single diffuser is ideal for round or regular shaped ponds. Use the dual diffuser system for long and narrow or irregular shaped ponds. Both kits include Quick Sink tubing for easy installation.