Yellow Perch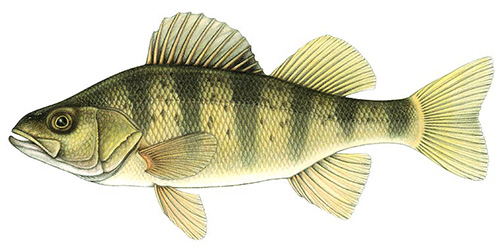 Spawning: Occurs from mid-April to early May. Eggs are deposited in adhesive bands over vegetation or on the bottom.
Food: Adult aquatic insects and larvae, and small fishes.
Adult Size: Normally 8-12 inches and weigh 1/4 – 1 pound; can exceed 2 pounds.
Identification: Sides are golden yellow to brassy green with 6 to 8 broad, dark vertical bands and a white to yellow belly. Many small teeth, but no large canines.
Pricing
To order fish, please call or email the Fin Farm. Fish sizes, prices and availability are subject to change.