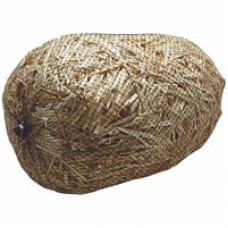 Barley Straw 6 lb bags
In Store Only
Additional Info
When to Apply the Straw
The decomposition process is temperature dependent and occurs faster in warmer water. When the water temperature is below 50oF, it takes approximately six to eight weeks for the decomposing of the straw. However, it only takes one to two weeks when the water temperature is above 68oF. Therefore, straw should be applied in mid-late April, and again in late July, in order to help clarify water in Ohio ponds and lakes.
How to Apply the Straw
The loose straw should be placed in some form of netting.. Loose woven sacks (e.g., onion sacks) can be used in small ponds that require low doses. If Bales are packed too tightly it will prevent adequate water movement through the straw.
Use floats to suspend the straw-filled netting in the upper 3 to 4 feet of the pond. The straw will lose its effectiveness if it sinks below this depth. Water movement near the surface will keep the straw well oxygenated . Therefore, it is recommended that floats be inserted inside the netting at the same time the netting is filled with straw. The netting is then anchored into place using rope attached to bricks or concrete-filled buckets.
Where to Apply the Straw
Place each net of straw roughly equal distance around the shore. The placement of the nets does not need to be exact and practical considerations such as corridors for swimming and angling may influence the location of the nets. In small ponds where only one net of straw is required, place the net of straw in the center of the water body.
We have locally grown barley straw available. We package it in 5-7 lb bags. It is priced at $7.50 per bag. Normally it is used at the rate of 4 bags per 1/4 acre twice per year.